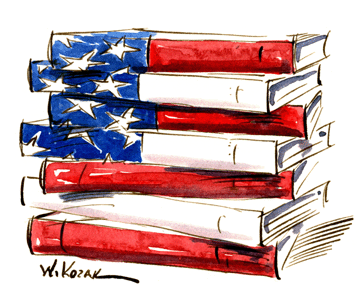 WE ARE NOT ACCEPTING BOOK DONATIONS AT THIS TIME
Please follow us on Facebook, Instagram and Twitter

See what we do every day!
GET INVOLVED
We have many volunteer opportunities available.
Including cleaning and sorting books, packing and shipping boxes, picking up books from our year round collection sites, participating in our annual book drive, helping out at our volunteer recruitment and fundraising parties OR volunteer to host a book drive.
​
Click the volunteer link, complete the application and email it to us at BooksforTroops@verizon.net.
We will add your name to our volunteer roster and you will receive invitations to volunteer when an opportunity becomes available. Please add SignUpGenius.com to your contacts.
​
Follow Us on Facebook, Instagram and Twitter to be the first in line!
Don't forget we need your volunteer application first. Click the link above.
Host a book sale
Host a party at your home or clubhouse
Host a golf tournament with your friends
Host a read-a-thon at your local school
Host a walk-a-thon with your church or civic group
Know a small business owner? Ask if they will sponsor the shipping of 10 boxes to deployed troops by making a $100 donation
Click our Amazon link and a portion of your purchase will be donated to BFT